Measurements
All plots are preliminary results! Ask originator before using them for any presentation or publication!
Here, you can find daily quicklooks of
raw data,
aerosol profiles,
cloud base height, and
housekeeping data
of all participating instruments. The color coding of all plots correspond to this legend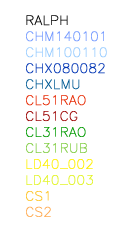 Cloud-legend for the meteograms can be found here
Further, we provide a short discussion of
the meteorological situation
special meteorological events (e.g. lofted aerosol layers), and
'strange' behaviour of instruments
Detailed discussions of various instrument effects and special meteorological situations can be found under special topics.
---